THE DEVIL'S PLAYLIST YA Paranormal Fiction – CLEVELAND, OH – Release Day BOOK SIGNING!
FRIDAY the 13th, MAY 2016
   
MOJO'S COFFEE & MORE
Friday, May 13, 2016, 6 to 8 pm
600 Dover Center Road
Bay Village, Ohio
50 cents off all drinks
Drop in for coffee with family & friends.  Tell me your stories.  Have a book signed.   Find out what happens next in Catherine and Michael's journey, and help me celebrate the end of this leg of mine.  I am so grateful to all of you for your love, support, and strength.  I couldn't have finished this novel without you cheering me on.
Donations will be accepted for THE AMERICAN FOUNDATION FOR SUICIDE PREVENTION.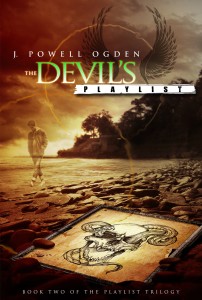 The Devil's Playlist
By J. Powell Ogden
Available now for pre-order in digital and paperback on Amazon, Barnes & Noble and more.
In this long-awaited sequel to THE GUARDIAN'S PLAYLIST, teen Catherine is trapped at the center of a battle for souls, trying to recover from her suicide attempt with the help of her dead best friend Michael, while demons crash a heroin epidemic sweeping the suburbs of Cleveland. 
THE DEVIL'S PLAYLIST may be a YA Paranormal Fantasy, but it deals with the struggles of addiction and the aftermath of a suicide attempt.  The story explores how to find hope when all hope seems to be lost.  It's never lost.  It just sometimes seem so.  If you are thinking about suicide, you will find resources under the FIND HOPE tab above.  I will be adding more.