CONTACT ME:
jpowellogden@gmail.com
Mobile:  614.592.9866
Post:
J. Powell Ogden
c/o Spark Street Media, LLC
PO BOX 3155, Dublin, Ohio 43016
Publisher
Spark Street Media, LLC
Media, school, book club & reader inquiries and comments welcome!
Bio:
The daughter of a N.A.S.A. physicist and a one-time-Catholic nun, I grew up on the west side of Cleveland and graduated from The Ohio State University with a degree in Environmental Engineering.  Upon graduation, I packed up and headed west to design water treatment systems on Native American Indian lands, before returning to Ohio to join the Ohio Environmental Protection Agency.
Eventually, my interest wandered, and I soon set off on a quest for a new career.  From nurse practitioner to vet tech, entrepreneur and math teacher, nothing fit.  The one constant in my life was my love for books.  Paranormal, Supernatural, SciFi and Fantasy could always be found on my bookshelves.    Magic, that's what I was after. Only the magic always ended after the last page.  I wanted a book which illustrated a magic with staying power.  At age thirty-seven, I set out to create a novel to fulfill that wish.  I've been writing ever since!

These days you will find me with laptop on lap writing Book 3, plotting the spin-off novels, or behind the wheel of a car.  I finance my writing with my job as a medical courier.  I have plenty of time to dream up plot twists and twist character backgrounds while transporting the odd body part from place to place on ice.  (I know there's a story in there somewhere.)   I also love spending time with my family, friends and the people I care about who are in recovery from alcohol and drug addiction, sharing a message of hope and receiving the help I need to maintain my own sobriety and clean time.  As they say…more will be revealed.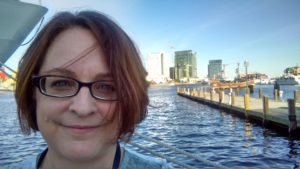 Come visit me!
Cleveland, Ohio Comic Con, February 2016
Saint Louis Wizard World
SciFi in the Valley Con in Altoona, Pa, June 2016
ConTamination
Fairview Park Summerfest, Fairview Park, Ohio – July 8, 9, 10
Picnic with the Author on Jason's Beach @ Dusk – Fundraiser for Addiction Recovery – Bay Village, Ohio – August 2016
Columbus Wizard World Con – July 29, 30, 31
Baltimore Book Festival – September 2016
Author Led Walk in Michael & Catherine's Woods  – Fundraiser for Suicide Prevention – Olmsted Falls, Ohio – October 2016
Unmask the Romance Author – Phoenixville, PA – October 1
Arch City Author Event – Columbus, Ohio – October 15
And more…
Sampling of Past Appearances
2012
Fairview Park, Ohio Summerfest
Cleveland's 216th Birthday Bash
SciFi in the Valley Con, Pennsylvania
International Cleveland Book Fest
Wizard World's Ohio Con, Columbus, Ohio
Novel Ideas Book Club visit, Baltimore, MD
Bay High School Creative Writing Classes, Bay Village, Ohio
Arundel High School Class Visits, Baltimore, Ohio
Author Alley, Larchmere Festival, Cleveland, Ohio
Walk in Lewis Woods, Tour of  "Haunted" Book Setting, North Olmsted, Ohio

2013
SciFi in the Valley Con, Altoona, PA
Tour of Lewis Woods, Michael's cliff, Huntington and Columbia Park Beaches – Cleveland West Side
Author Fair, Cuyahoga County Public Library, Mayfield Heights, Ohio